On a recent project where we have VMware Horizon 7.13 and UAG 20.09 appliances for the external connections some strange behavior was observed when putting in the syslog URL entries.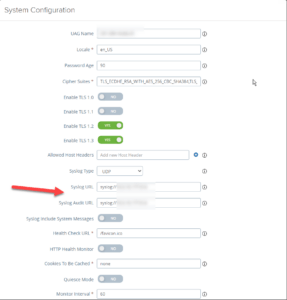 After adding or removing entries here and saving the settings all the connections through the UAG will get terminated. Finding this behavior strange as to you don't do anything that special so why disconnect these sessions.
Had some discussion on the vExpert slack channel and quickly came to light that it looks like an regression issue.
The following article describes the issue User sessions are disconnected through VMware Unified Access Gateway when the configuration settings are changed with the UAG Admin UI (56487) and this should be resolved in later versions.
The version tested here is the release that accompanies Horizon 7.13 build and that is UAG 20.09.
The versions tested by Jesper Alberts were Horizon 2012 with UAG 20.09 and the same problem.
The versions tested by Stephen Jesse were Horizon 7.10 with UAG 3.7 and 3.10 without any issues.
So to sum it up if you have the builds in question it might be a good action to log a support case.
Hope it helps!