In addition to Jesper Alberts his blog a follow up with another custom UAG edge service which has it quirks called the content gateway. For the SEG article see vJAL.nl – Secure Email Gateway
Now diving in, when you configure the edge service you have the following options to configure Custom Values for Content Gateway and bare in mind that you'll find this article after your first check on SSL Labs because an disappointing rating is what you get out of the box. See below screenshots for an A+ rating on SSL Labs:
After configuring these options you need to re-save/update the configuration in the UAG as well otherwise the service will not get these changes. And voila an A+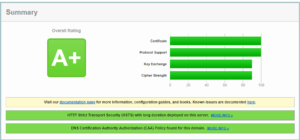 Hope it helps!